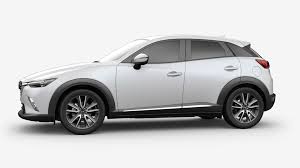 Years ago, the sedan or coupe was the prominent choice for body style. Increasingly, those owners are now looking to the cargo benefits of the Crossover/Compact SUV. Typically, not at large as a full-size SUV, the Crossover gives passengers a more protective vehicle for commuting, including an elevated seating arrangement… the Crossover sits a little higher than a sedan or coupe, offering a better perspective of the road.
Crossovers generally don't cost as much as an SUV and most are more fuel efficient as well. Now you don't have to choose between visibility, comfort, and fuel efficiency. The new Crossovers are the best of all worlds. The additional cargo space in the Crossover allows families to do more which their vehicles, from hauling items to family vacations. The Crossover is the flexible choice.
More Space – Similar MPG
Compact Crossovers offer similar fuel economy as midsized sedans but offer a lot more cargo space. US automakers have been adding Crossovers to their lineups since 2010 and have reduced the number of sedans in response to this change in consumer preference. The lines are beginning to blur between compact SUVs, Crossovers, and Hatchbacks. All three are a popular choice for 2018.
Trade in your 10-year-old vehicle and
check out the new Crossovers/SUVs/Hatchbacks
at Mazda of Olympia. I'll bet many of them beat your gas mileage and I'm sure the features will seal the deal. Better visibility with a higher seating position, better gas mileage with a more fuel-efficient design, and a myriad of safety features make these new cars worth test driving.
Mazda of Olympia
Your Trusted Local New and Used Car Dealership!!!
(800) 678-9210
www.mazdaolympia.com