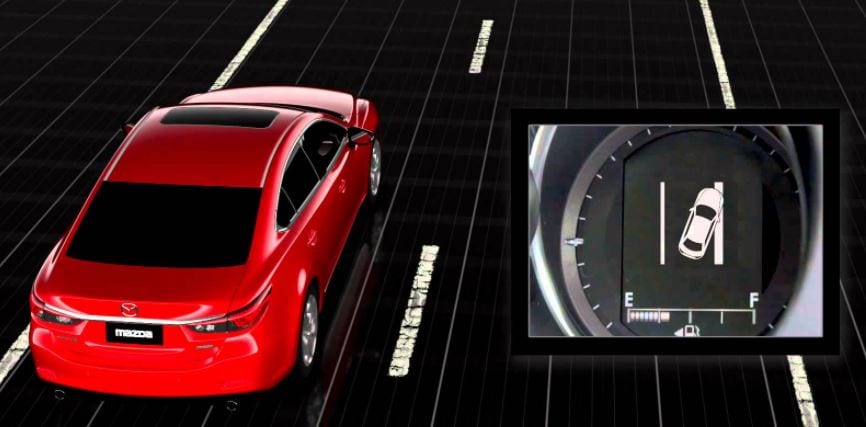 One of the most recent technologies from Mazda is the (LAS) Lane Keep Assist System. This system is designed to promote safer driving by providing appropriate steering assistance. The system allows drivers to choose between Lane-Trace, which provides steering assistance early in order to help keep the vehicle centered in the lane and Lane Departure Avoidance, which only comes into play if the vehicle begins to leave its lane. LAS uses a windshield-mounted camera to recognize lane-markings on the road and activates at speeds above 35mph.
Lane Departure Avoidance
When Lane Departure Avoidance is selected, the system works to prevent unintentional lane departures due to driver inattention. If the system predicts that the vehicle is about to stray from its lane, it provides steering assistance to return the car toward the center of the lane.
Lane Trace
When Lane Trace is selected the system reduces the burden of driving by providing continuous steering assistance to help keep the vehicle centered in its lane. On bends the systems help the driver to drive more safely by guiding them toward a steering angle that matches the curvature of the road. Lane Trace is achieved simply by having LAS provide steering assistance from an earlier stage than with Lane Departure Avoidance.
Stop by Mazda of Olympia, get behind the wheel and experience this latest technology from Mazda and learn about all the safety technology they have to offer in the full line-up of Mazda vehicles. We are happy to see everyone from the towns of Lakewood, Lacey, and Centralia.
Mazda of Olympia
Your Trusted Local New and Used Car Dealership!!!
(800) 678-9210
www.mazdaolympia.com