Attention to detail is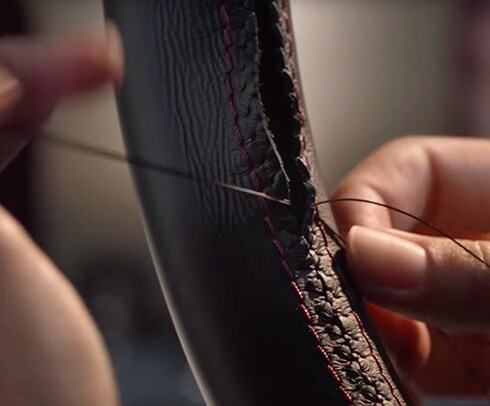 evident every Mazda model. From the paint selection to the steering wheel stitching, Mazda takes great pride in its craftsmanship. Mazda's philosophy is to appeal to the senses and design is their way of delivering that appeal. Starting with the body design phase, Mazda uses more clay in its modeling development than any other car manufacturer. At Mazda, design starts with a block of clay. And for that, there is simply no substitute. Artisans shape the clay until the ideal lines reveal themselves and only then do they collaborate with digital modelers. This traditional/digital partnership takes the best of both worlds to create uniquely appealing designs. This is an example of the undying desire to get the perfect results in form and function in every body style.
The paint process is way more than simply picking "red". The diligent care that goes into design and fabrication continues during the paint process. The color designer and master painter work together to make sure the designer's color is translated perfectly onto the newly built cars. A combination of precise mixing and expert application technique ensures that the color and finish are worthy of such breathtaking designs.
Simply, the steering wheel is the ultimate component of form and function. Every part of the car that will be visible to its occupants must be reproduced precisely. Revisions can also be made at this point, which is another example of Mazda's collaborative design process. Quality is never compromised. When this much thought and design is aimed at something as seemingly mundane as the steering wheel, that philosophy is applied to the entire concept, design and manufacturing of every Mazda model.
Let the qualified staff at Mazda of Olympia show you the entire Mazda lineup and see how the Mazda design differs from all other brands.
Lincoln & Mazda of Olympia
Your Trusted Local New and Used Car Dealership!!!